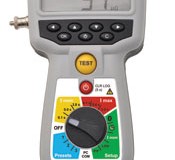 Posted on 13 March, 2014 by david@jamerainc.com in Electrical test apparatus.

The Megger DLRO-H200 is like no other micro-ohmmeter on the market today. Using innovative ultra capacitor technology, the primary use of this instrument is for measuring contact resistance in circuit breakers, but it also has many other applications. It's rugged design works in all types of weather, and industries. Check out 7 TOP REASONS to […]

Continue Reading... Comments Off

on Megger DLRO-H200 – the World's First Handheld Micro-ohmmeter!